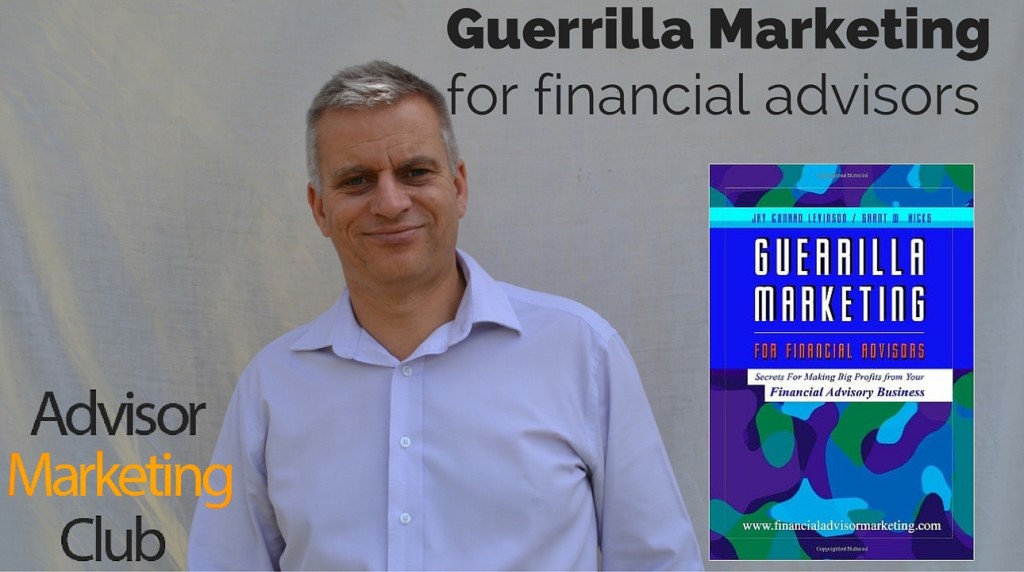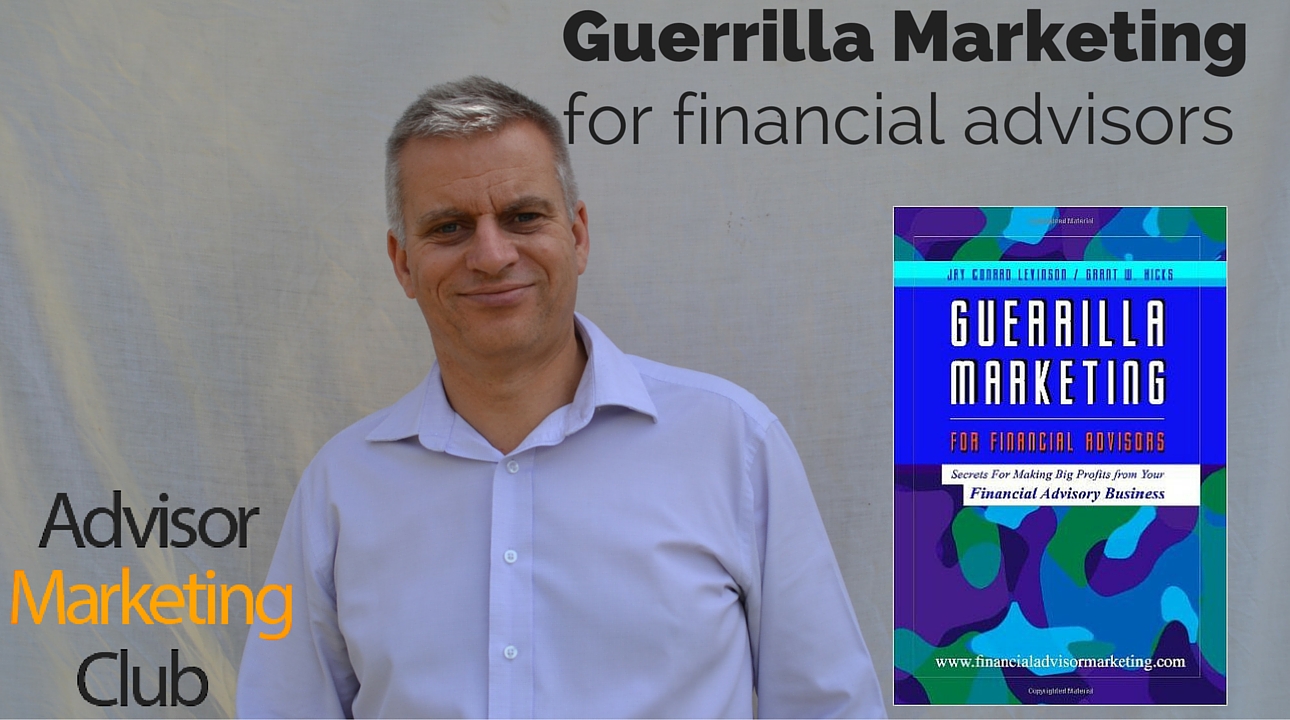 The Guerrilla Marketing book series has been around for a while. I recently discovered that there's a Guerrilla Marketing For Financial Advisors book so I picked up a copy and thought it was worth providing a review.
If there's one common thing that financial advisors talk to me about, it's generating new clients. We're always looking for ways to get new clients in the door who value our services.
The Guerrilla Marketing For Financial Advisors book is written by two authors – Grant Hicks and Jay Conrad Levinson. Grant is the main author and provides a lot of the content and Jay chips in along the way with his comments. It's worth noting that Jay is the creator of the Guerrilla Marketing series of books.
The first chapter of the book starts off with some marketing basics – building a 10 year plan, defining your target client. Some of this may not be new to you, but it's always worthwhile reading someone else's ideas on this subject.
Chapter 2 shows you how to generate new clients from outside sources. It talks about having some referral partners, doing seminars, using the web to generate new prospects and using media such as newspapers.
The next chapter is about getting new clients from internal methods. This looks at building a referral system to clone your existing clients as well as how to educate your clients about what you do.
Chapter 4 looks at welcoming clients and has some ideas for creating a great first impression as well as some questions you can use in your appointments.
Chapter 5 talks about how to 'wow' your new clients and ideas to make your new financial planning clients feel appreciated.
I found chapter 6 to be interesting for financial advisor marketing ideas. It focuses on client service ideas and talks about correspondence you send to clients, newsletters and using agendas for your meetings. Again, there's nothing earth-shattering here, but there are some good ideas that I've heard of but never tried so it was a good reminder reading this section.
Chapter 7 & 8 are shorter and more brief than the other chapters. They look at taking your business to the next level and some general principals for financial advisor marketing.
Chapter 9 has some final thoughts and the Guerrilla Marketing for Financial Advisors Action Planning Worksheet which you may find useful to plan out your marketing plan.
Remember, it's one thing to read the book, it's another thing to actually take action!
Other Thoughts On Guerrilla Marketing For Financial Advisors
I read a lot of marketing books and online articles. The strategies in this book aren't original – you've probably heard of them before.
But that doesn't mean this book isn't a valuable resource for a financial planner.
What this book does well is provide you with a lot of marketing strategies that the author has used to generate leads for his business.
My philosophy with books like this is simple – if I can get one good idea from them that helps me grow my business, then the book is worth it.
Check it out for yourself – Guerrilla Marketing For Financial Advisors on Amazon.