I know of many financial planning groups who are reluctant to allow their advisers to have blogs, Twitter accounts etc, because they're worried that they won't be able to control the online conversations.
My response to that is that the conversations are already going on, whether you can see them or not.  A far better approach is to actively seek out mentions of your brand, and join in with the conversations on social media, forums etc.
You can't stop people talking about your brand, but can you can choose to be part of the conversation.

If you're a good financial adviser, chances are that people are talking about you. They'll say some great things, and maybe some people will say some negative things. The key is being aware of the things people are saying about you online.
And Google makes it easy to do this.
I'll show you in five minutes how easy it is to set up a Google alert so you can receive a notification every time your brand is mentioned online. It's quick, easy and free to do.
Introducing Google Alerts
Google alerts allows you to track the mentions of a particular name or phrase. As you know, Google is constantly trawling the web and indexing sites. When you set up an alert, you tell Google to let you know each time it finds a new instance of your search term – i.e. your name. So if Google is indexing a forum and sees your name mentioned, it sends you an alert.
Here's how to set it up.
Setting up a Google alert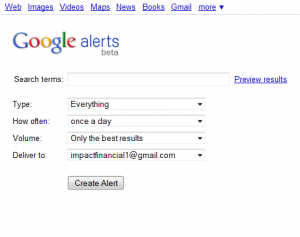 First, head over to www.google.com and click the 'Sign In' section on the top right hand side.
If you already have a Google account, proceed to signing in. If you haven't got an account, set up a new account – it's easy to do and you'll need it for other Google services.
Once you're logged in, you'll see some options across the top left hand side – these may vary from user to user. If you don't see one called 'Alerts', then click on the arrow next to 'More'. You may need to click on the 'Even More' section at the bottom of the drop-down box.  This brings up a page showing all the Google services – 'Alerts' should be around the top left.
Click on 'Alerts' and you'll be taken to the Google Alerts home page.
In the 'Search Terms' box, you enter the word or phrase you want to monitor. When I set up an alert for my name, I entered it as "Allan Ward". By adding the quotation marks I ensured that I'd only get results for the exact phrase. If I didn't do this, I'd receive results for articles that mentioned the words 'Allan' and 'Ward' anywhere in the article, and usually not together.
The next options are relatively straightforward. For 'Type' I usually select everything. This relates to the types of sites Google is searching.
I usually set 'How Often' to 'Once A Day'.  This means I will get sent a report once every day. It's usually around the same time of day that you set the alert up.
'Volume' has the option of 'Only the best results' or 'All results'.  I've always set this to 'All results'. If your name was being mentioned hundreds of times every day you may want to reduce the length of the alert, but I don't have that problem!
Finally, there's a couple of ways Google can deliver the alert – by email or via an RSS feed. I used to receive it by email, now I have it delivered through the RSS feed to my Google Reader account.  I'll explain how to do this in another post.
Once you've selected these options, you press the 'Create Alert' button and you'll be taken to a new page. This page shows a summary of your alerts. If you ever need to edit an alert, this is the place you do it.
Find out what they're saying about you
Once you've set up the alert, sit back, relax and wait. Within 24 hours you'll receive your first alert from Google (assuming Google finds some new mentions of you on the web).
If you're active on Twitter or Facebook you'll probably see any activity on those sites in your Google alerts.
Now that you've successfully set up one Google alert, go back and set up others. I have them set up for my name, as well as the names of my financial planning business and blogs.
Also, if I'm monitoring some particular keywords that I want to rank for in Google, I'll set up alerts for those keywords so I can see what my competitors are doing.
Do it now!
It will take you less than five minutes to set up a Google alert. Do it now! Don't be scared of what people are saying about you.  Remember, if people want to talk about your brand online, that's great. If they're doing it on a forum or blog, once you know about it you're able to join in with the conversation and possibly get some new clients as a result.
Do you have a Google alert in place?
If you do, what names or phrases are you monitoring?
photo credit: Wayne Large