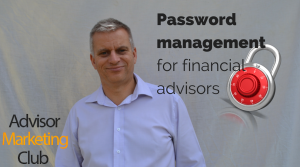 Financial advisors keep a lot of client information on their computer systems. Some of it sits on other websites, some in the cloud in applications like Dropbox, and some sits on their office computer systems. Other information sits in paper files.
Just as you wouldn't dream of leaving your office doors unlocked at night, you should make sure your electronic data is secured.
This means having strong passwords that aren't easily broken.
And to be effective, you need a system to store all these passwords.
In this video we talk about password security for your financial advice business, and look at some solutions.
You can download the Roboform trial here.
Learn more about LastPass here.
Please leave a comment below. And don't forget to sign up to our newsletter. You'll receive instant access to our Little Black Book Of Online Marketing Tools – more great tools and ideas like this one.